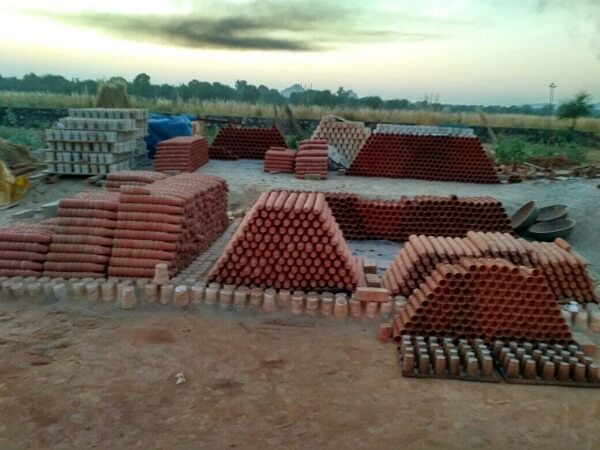 Dec. 28, 2016
An Opportunity for Kullad Craftsmen to Reach Masses
---
Have you ever given it a thought that the tea you sip from the mud cups while enjoying the rain or winters, involves a lot of efforts to serve the taste you can easily relish? A mud cup is popularly known as "Kullad" is a piece of art and also the process involved in making it is very interesting. The potter uses clay/mud and gives it a unique shape, design, color, etc. This process seems to be easy; however, in reality, it is a process that can bewilder any person.
But, why we are discussing these kullads all of a sudden? The answer to this question lies in the fact that after using the plastic disposable cups for decades we have now learned that they are not only harming the environment but also laying the foundations of a weak society for our future generations. Hence, it is now time to move back to the traditional yet eco-friendly way of serving our beverages i.e., Kullad.
Kullad Making : An Insight of the Process
While traveling to offices and colleges, we often see people sitting by the roadside and making something out of wood or steel or bamboo. It is not only their skill but a means to make a living. Similarly, a potter is an artist who brings to life the art and culture of our country that has been buried under the heap of plastic disposables. But, now it is high time to take a step back towards our heritage and bring home the much-required change for saving our environment. Thus, it is important to know the process involved in making kullads and the requirements as well.
A good quality soil found in the mountain ranges of Rajasthan is the first and foremost requirement for making good quality kullads. The soil is available only after the rainy season ends. Apart from being highly disposable the kullads made from this mud has high medicinal properties. The person using these mud cups on a daily basis will have access to the antibacterial, antifungal and antiviral properties of the mud.
Step by step process of making Kullad
The first step after obtaining the mud is to clean the mud properly and remove all kinds of pebbles, weeds, shells if any.
The next step is to finely grind the mud so that a smooth paste can be made out of it.
This finely ground mud is then put into an artificial pond and mixed thoroughly with water to make a colloidal bundle.
These bundles are then fed to the machines and required shapes along with size are designed.
After that kullads are dried in the hot sun and then baked in big furnaces to ensure they remain in perfect shape.
After the baking process finishes, they are ready to be used.
Scientifically a kullad is one of the most environment safe disposable cups. Even then its availability is restricted in most parts of India. For example, in a city like Bangalore finding these earthen cups is equivalent to searching a needle in the haystack. There are a lot many reasons as to why there is such a stark scarcity of Kullads in Bangalore. They are as follows:
Primarily, the mud used in making the kullads is not easily found everywhere. And the city lacks appropriate mud.
The next hurdle is the absence of adequate sunlight.
Humidity is yet another factor that does not let the kullads dry.
As the soil is not appropriate, it becomes difficult to obtain the desired shape and also results in more wastage.
Thus, PIRSQ has taken up the initiative to make India aware of the need for an environment-friendly change by enabling fast delivery to places like Bangalore, where often shopkeepers face the problem of delay in regular orders. Also, the company makes it possible for the artisan's talent to reach our homes and gives them a platform to not only earn their living but to put forward their skills in front of the world.