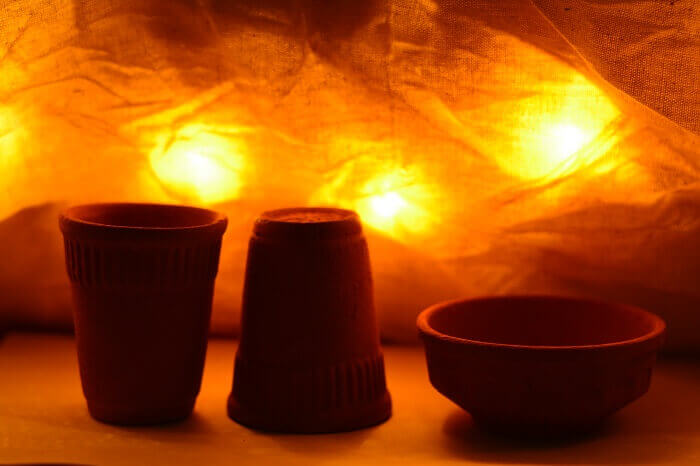 Feb. 1, 2017
Kullad: A journey from tradition to style statement
---
While Anoop was having his regular morning walk, he noticed a new roadside tea stall (named chai chuski) with a few tables was being set up in his locality. Out of curiosity, he went to enquire about the owner and his motive to commence such a joint. He was shocked when he learned that the joint was run by four friends who have completed their MBA degree from a reputed college. And the motive was to promote environment conservation by using disposable mud cups i.e., "Kullad" or "Kullhar".
Long before the invention of metal utensils, our forefathers have used utensils and storage items made of mud only. Some of these items were reusable along with being completely disposable and eco-friendly. As we all know terracotta or a mud cup is an eminent part of the rich heritage. These were used to serve hot beverages and were generally disposed of after one use. But, with the advancement in technology and invention of kitchen utilities, the kullad kept losing its position. But, then with the alarming use of plastic disposables cups and their adverse effect on the environment people again moved towards long forgotten culture of "kullads".
Making of kullads: Behind the scene
Kullads are made by the local craftsmen or porters in India from thousands of years from clay. After giving the desired shape these cups are baked in big furnaces to harden the mud. The porters are very skilled in their work and make different kinds of mud cups ranging from basic unglazed "desi kullads" to the designer ones seen in restaurants and the roadside food joints. Earlier these disposable mud cups were seen in the low-budget tea stalls which served flavored tea with the aroma of the baked mud. However, they have now become a style icon to give an Indo-Western touch to even the posh restaurants and hotels. Thus, these kullhars travel in various directions once made and are generally not reusable.
Uses of kullads
There are many different and creative ways of using this Indian handless mud cups. Some of them are mentioned below:
Serving eatables
The most basic use of the kullad is serving food and mainly beverages. In the winter season, one can see people sipping hot coffee and tea from these mud cups in every corner of the city. Besides hot beverages, it can be used to serve sweet yogurt, pudding, cold coffee, buttermilk, etc. As these cups vary in shapes and sizes the dishes which can be served in them also varies.
Plant pots
A new trend of decorating office and houses with bonsai plants have picked up pace. But, to get something for fitting in the compact space becomes a challenge. For those who want to give their surroundings a traditional touch, making flower pots out of kullads can be the best choice ever. It would not only give you the feel but will also support the plant to grow and will handy in case you choose to move your place.
Accessory holder
We often face a tough time in searching for small essentials like paper clips, u-pins, eraser, sharpener, etc. If you have a glass shaped kullad then you can redecorate it to become a pen stand. It would not only look creative but also unique in its style. Women can also use it for storing their accessories like hair pins, earrings, safety pins, etc.
Thus, a mud cup or kullhar travels a long way after coming out from the porter's oven. From roadside stalls to restaurants and from being a serving utensil towards becoming an accessory holder, this product has the capacity to fit in every place without harming the environment. Looking up to its biodegradability and environment-friendly approach the government of India has also started supporting it. Made with just two components (mud and water) along with the craftsman's skill, the India Kullad is traveling the world.